hey girls! guess what I have awesome news! so as all you girls know we (famon,me and the kids) were living with his mom and all there, well come friday of this week we will have an apartment! the only thing is it is off nw expressway, but the living room is huge! perfect size for sewing meets or video games, anime meets! I can't wait to show you all the great apartment!
Current Mood:

accomplished
http://www.youtube.com/watch?v=L3QeDQK5Mx8
I is in love with this song and the video (jeef and the otehrs are shirtless half way through!)! I meet all of the people in it (well from the band!) Jeff (singer) and Rick (dreaded guatarist) are awesome they singed my bloomers!
So i went to tokyo in tulsa and found out one of my favorite bands were playing! I was so glad and excited to see them live! So after the rave that they played at i went to sleep and was hanging out in the dealers room the next day when all of a sudden whom do i see but Jeff the lead sing for the band (which is The Last Dance) I turned redder then a tomato and my friends told me to talk to him, so after following him around and looking out from behind things at him they pushed me straight into him! I just stood there and asked him to sign a peice of paper for me, he just smiled and asked whati was thinking and I said "I am speechless" so he wrote Nikki dont be speechlesss and signed his name. I smiled like i had ever smiled before and asked for a hug, I thought i was going to faint when he hugged me tight. I could not help but keep smiling so I ran to Lucy's table in the dealers room and had to take my inhaler to breath and was telling her about it, she is laughing at me at this time. When I see him and point him out to her she smiles and I keep talking about him next thing i know everyone around me (my friends) are laughing and i feel something touch my shoulderr and hit my head, it is Jeffs lightsaber he has been carrying around and he says "I love it when peoople are talking about me and giggling," then he says i cant hellp it the 15 year olds love me. I turn to look at him and say "excuse me i am 21 not 15!" hands on my hips, he looks amazed and smiles. I look back at him and ask for a picture with him and he nodded and grabs me tightly, and whispers" now that i know your of age i can molest you!" with a laugh, i smile turning red and say ":that is fine with me!" he laughes and so after this i am walking around the dealer room again and pass him, he smiles at me and follows me with his eyes, ignoring the person he is talking to so my friend and i get outside the room and to the table set up in the eatting space and sit down me using inhaler again and out he walks smiling at me again and talking to another member of the band, so after i think he is gone away from the skywalk my friends and ii walk out on to the skywalk and there he is smiling then he calls me by name and says "LLets go get a beer!" I neaarly fall down my friend jessi says sure lets go, so in the end i hung out with him and the other member the guatarist rick, we hung out that day and then that night drank with them had wine spilt on my lolita dress, had my blooers signed got two free cds and a freee tshirt! in the end it was awesome!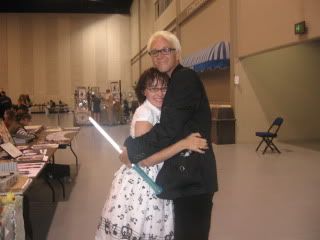 Okay so i am alittle late on this post but been busy with my kiddos.
Just thought I would say HAPPY BIRTHDAY BARBIE! We all love you and love how you have grown! (lifts cup in a toast!) To another 50 years!